Noah L. "Ves" Wiseman, III: Guitar and background vocals
Ves is the last remaining founding member of The New Voices of Faith. Ves grew up in Salisbury, NC but now makes his home in Mocksville, N.C. Ves learned from family friend and neighbor Avery Verdell, Sr, to play guitar at around the age of 10 years old. Ves played in a local top 40 band, The Aqualad 5 in the late 1960s along with younger brother Buster. When the 1970s was ushered in, the brothers had left the band to play for a popular gospel group in the area, The Sherrellettes.  Following that up the brothers joined a new gospel group in 1973, the Sensational Ovations (see youtube, Sensational Ovations), formed by the late Joseph Cowan and Tyler Copeland that eventually became a standard in the area. Ves also played guitar for gospel national recording artists The Swann Silvertones during a couple of concerts in Salisbury. Both he and brother Buster played back up for The Fantastic Violinaires for two concerts in Salisbury, NC in 1974. Ves played for numerous local groups as the years passed before helping found The New Voices of Faith. He plays guitar at his home church of Henderson Grove Baptist Church in Salisbury where he has been a member since childhood. He also serves on the Trustee Board and serves as manager and booking for The New Voices of Faith. His favorite guitar is his 1962 Fender Strat. Birthday August 3, 1955.
Minister Timothy "TJ" Bridges, Jr: Lead & Background Vocals, Guitars, Drums, and Keyboards
TJ joined The New Voices of Faith in 2008. He is an extremely talented and gifted musician and vocalist. TJ grew up in Salisbury, N.C. He sings background vocals and lead vocals. He plays drums, keyboards, guitar and bass. He is NVOF's musical coordinator. He writes and arranges material for NVOF and has several songs in which is featured on the latest studio recording by NVOF on the CD entitled "Thank You" released in January 2020 on the Voices' independent label NVOF Records & Entertainment. The New Voices of Faith currently perform some of those songs written by TJ. He is also featured on a duet on the 2019 CD single release by vocalist Selena Barker. TJ began playing drums at a pre teen age and started playing bass, guitar and keyboards as a teen.
He always has ideas for musical, vocal and overall song arrangements.  TJ has added another accomplishment to his resume as he has answered the calling and become a duly ordained minister. He preached his initial (trial) sermon on May 26, 2013 at Shady Grove Baptist Church in East Spencer, N.C. He is currently the musical director at two churches in Kannapolis, N.C. He also is available as a musician, arranger and vocalist for wedding and other events, call (704) 298-2949 for information. TJ resides in Charlotte, N.C. Birthday November 30, 1989.
Noel Z. "Buster" Wiseman: Bass Guitar & Background Vocals
Buster resides in Greensboro, N.C. He began playing bass guitar at around the age of 10 years old after taking guitar lessons for a couple of years with older brother Ves. Although he continued learning to play guitar, playing bass took center stage. His mix and experience in various genres of music and of all different types of playing styles creates his bass style. In the early years while playing in a local top hits band in Salisbury, he learned to play drums at around the age of 11 years old. He played bass in two gospel groups during the early 1970s and done some back up work for a national recording artist before going to college. In the 1980s he put live performing aside but kept writing material.  He joined The New Voices of Faith in 1997. His interest is also equipment and sound and recording as well as production. He serves in the role of set up and sound for The New Voices of Faith and coordinates the group's media presence. He has a solo project, "If You Believe" produced and recorded at August 20 Recording & Entertainment in Greensboro and released in 2009 (youtube "Buster Z- Leavin," the only single release). After working on it for three years he released a new solo project (Gimme Da Bass) in November 2018 and is available at your favorite online stores including CD Baby, iTunes, Google Play, Spotify and busterzaug20.hearnow.com as is NVOF's release "Thank You". Buster has written several songs that NVOF currently performs and a select number of songs that the group features on the 2020 studio NVOF CD entitled "Thank You".  He also does lead vocal on two of his songs on the CD. He currently plays bass at Henderson Grove Baptist Church in Salisbury where he has been a member since childhood. He is proud of his bass collection that includes his original 1969 4 string Fender Precision bought by mom Rosetta when brand new. He is also proud of his original 1965 model Fender Jazz Bass that is his choice for just that old school thumpin' and pluckin' which you can see him performing bass covers on YouTube (Bass Covers by Buster).  He is a member of the Independent Recording Artists, Gospel Music Association (GMA), and Bass Guitar. Birthday August 20, 1958.
Duwan Jamal "Jay" Robertson: Drums and Percussion
Jay has been the New Voices of Faith's drummer since January 2011 when he began filling in for T.J. who has taken a larger role in lead vocals as well as background vocals and guitar. He was officially named a member of the group on January 8, 2012. Jay is a young man who has worked hard to enhance his natural skills as a drummer. He began playing in church. Jay continues to work hard at his craft and with the help of TJ he has become a fine drummer and the heartbeat of the New Voices of Faith. He is also the drummer at Oak Grove Baptist Church in China Grove, NC and at Henderson Grove Baptist Church in Salisbury, N.C. Jay lives in Salisbury, N.C., his hometown. He lends his considerable talents to different projects throughout the local area. Jay is an avid sports fan and enjoys playing pick up basketball with friends. Birthday April 5, 1992.
Pastor Timothy Bridges, Sr, Lead & Background Vocals

Pastor Timothy W. Bridges, Sr comes to the New Voices Of Faith with a wealth of singing experience. He has sung with different quartet groups over the years including The Gospel Keynotes featuring Paul Beasley but says becoming a part of NVOF is special because he gets to sing with his son TJ. Tim, Sr is married and is TJ's father and has seven more children. Those eight children have blessed him with nine grandchildren. Tim, Sr is a supremely gifted vocalist. He is the main lead singer along with and Alton Speight and TJ for NVOF but he also does background vocals and writes and arranges as well.

Pastor Bridges rejoined NVOF in time enough to lead two of the tracks on the 2020 release by NVOF "Thank You", including the title track, "Thank You". He is an avid sports fan and loves to play golf. He enjoys meeting people and very much loves spreading the word of God through song and preaching. Pastor Bridges says he would like to learn to play guitar.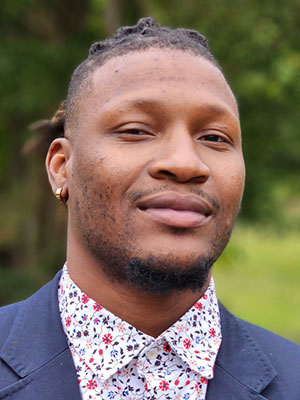 Alton Speight, Lead Vocals
Alton is a very talented vocalist and musician. He began singing and playing musical instruments at an early age. Singing in his church choir at 5 years old and by the age of 10 he was playing drums. By the time he was a teen he was playing bass and providing vocals for a local gospel quartet that featured teen friends from various churches. Alton also plays guitar, bass and drums. He is in his second stint as lead vocalist of the New Voices of Faith of Mocksville. He also can sing all parts in the background. He initially joined NVOF in 2013 but left the group just prior to the Voices going into the studio in 2018 to record "Thank You," which was released in 2020. He was a vital part in helping to write and arrange several tracks on that recording. Alton returned to NVOF in 2021 and formed a co lead duo with Pastor Tim Bridges. He is now the primary lead vocalist for NVOF. Alton was reared by his parents, his father who is a minister and his mother. So church has always been in his life. He has sang in church choirs and various gospel quartets. He has provided his many musical talents to local churches throughout the years as a bass player, guitar player, and drummer. Alton is a Virgo, born August 30, 1992 and loves playing his guitars and watching sports.